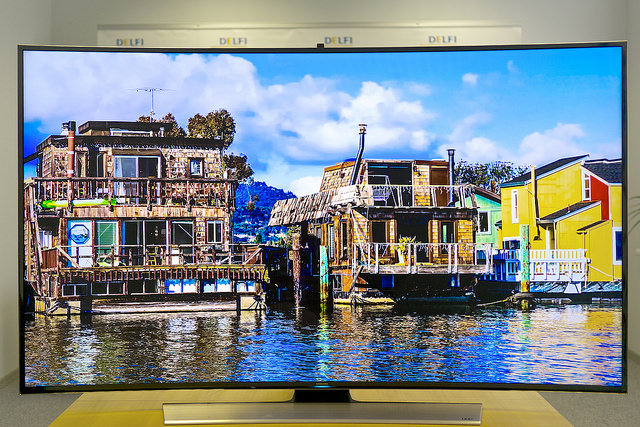 The so called 'idiot box' has come a long way since it was first invented in terms of the technology. One of the most significant revelations in the television technology has been the advent of the LED TV. Samsung one of the leading global tech brands has been in the forefront to bring various LED TVs that has redefined the television watching experience. The supreme quality picture output provides a life like viewing experience and highlights even the minutest details on the screen.
In the past few years, the prices of the smart TV and LED TVs has come down drastically. This can be attributed to the intense competition among the leading brands. If you are looking to buy a new television for your home it is best that your first decide on a budget and check the Samsung LED TV price. This would help you narrow down your choice and make you decision making easy.
Samsung 22F5100
If you are looking for a TV that fits within constrained space, this 22 inch LED TV would perfectly suit your requirement. This television has a full HD screen with 1920 x 1080 pixel resolution that provide a crisp and sharp picture quality. The model also features 2 USB drives to directly plug and play media files from your external hard drive or pen drive. Some of the special features of the TV are its different video modes that includes sports mode that makes watching your favorite sport super exciting and enjoyable. Besides, the supreme audio quality gives you an experience like you are watching the game live. You can bring home this awesome TV for just Rs. 11,900/- (approx)
Samsung 32J5300
This is a slightly bigger sized TV than the above model, it features a 32 inch screen and has a full HD display with 1920 x 1080 pixel resolution. One of the best features of this mode is that it has a built in Wi-Fi. It also features 2 USB ports that you can use to attach your hard drive and access your multi-media files easily. The virtual sound DTS studio audio feature provides an incredible experience while watching your favourite video, sports game or playing games on your TV. All these features are available for just under Rs. 35,000/-, which is an excellent deal.
Samsung 40J5300
This 40 inches screen TV is ideal for bigger home and if you have a large living room. If you have always imagined watching your favorite sporting hero in action live at the stadium but couldn't afford paying the expensive tickets then just bring home this TV and you would get nearly the same feeling of live action. Thanks to its high quality full HD display and the supreme quality audio, each and every sound and visual elements gives you a life like experience. The video clarity of TV is second to none. So you can bring home this amazing TV for about Rs. 48,990/-, which is an excellent buy considering the fact that the model completely redefines TV watching experience and pushes the boundary of television technology.