When we think of Egypt, we think of an ancient place surrounded in intrigue and mystery, a dusty desert setting with magnificent millennia old monuments sticking out of the ground as if giants put them there. I am of course talking about the mighty pyramids and the giant sphinx which has the body of a lion and the head of a human, both of which dominate the skyline of Giza in the wonderful city of Cairo.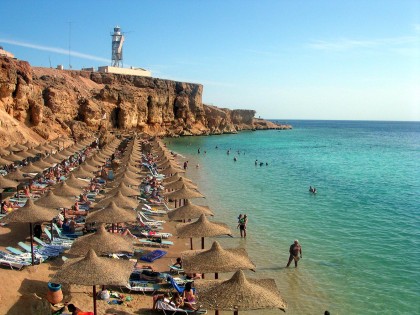 Once a place for the hardened traveller or the archaeologist in search of the pharaoh's hidden treasures and artefacts, Egypt is now fast becoming a top holiday destination for families and people looking for a different kind of holiday in the sun.
Not too far away from the hustle and bustle of Egypt's capitol of Cairo is the splendid and tranquil city of Sharm El Sheikh also known as the 'The City of Peace' and it's easy to see why it got this nickname. Situated on the southern tip of the Sinai Peninsula with a majestic mountain range on one side and the crystal blue waters of the Red Sea on the other, this city truly is peaceful and relaxing.
Sharm El Sheikh is home to some world class resorts and restaurants, and with an all-inclusive Sharm El Sheikh get away you're guaranteed a fantastic Egyptian holiday to soak up the all year round sun on one of the many golden sanded beaches which lie along the beautiful Red Sea.
And there is plenty to see and do in Sharm El Sheikh to keep your holiday interesting and entertaining from water sports to golf courses, and some would say some of the best diving and snorkelling in the world.
So here are my top 5 things to do in this charming and ancient city.
4WD Jeep Safari
Why not hire a private 4WD drive jeep safari into the desert sands of Abu Galum and the awe inspiring Coloured Canyons. Here you can hike through these coloured canyons and hopefully see some of Egypt's native wildlife such as Striped Hyenas or the Egyptian Red Fox.
Sharm El Sheikh Aqua Park
Perfect for those wanting to cool down in the mid-day sun, this is the biggest water park in Egypt, which boasts an impressive 39 slides and a wave machine. This is ideal for families looking for a fun day out as it caters for all ages.
Star Gazing Tour
This is a must for the budding astronomy buffs out there. And it's not just looking at stars; it involves camel safaris, learning how to bake bread and eventually looking at the stars with powerful telescopes, being in the desert with little light pollution the night sky is some of the best in the world. Be sure to take a warm jumper as it can get quite cold at night.
Ras Mohamed Red Sea Cruise
Being on the Beautiful crystal clear waters of the Red Sea it would be rude not explore these fantastic waters and what better way than a mini cruise. Located in the Ras Mohamed National Park this is a fantastic day out, with some brilliant snorkelling to be done. What will you discover in this underwater paradise?
The pyramids of Giza
Would any trip to Egypt be complete without visiting Egypt's most iconic landmark? Just a short flight from Sharm El Sheikh is Egypt's capitol city, Cairo, home to the might Pyramids of Giza. Spend the day walking around these ancient monuments and visit the famous Egyptian museum which houses an impressive 135,000 artefacts. Simply not to be missed.