Are you tired of that old, drab kitchen? Well, we have some small projects that can help create a brand new-looking kitchen without the full remodel. Here is our top list of tricks to turn drab into fab.
1. Clean and Paint for a Refreshing Change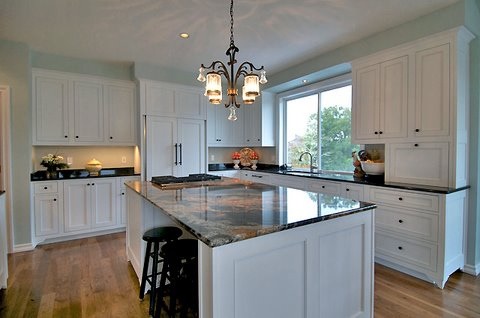 1. Clean and Paint for a Refreshing Change
Break out the industrial cleaner and give your kitchen a cleaning makeover. When done, apply a fresh coat of base paint and change up the color scheme to something modern. Don't be afraid to use bold colors because you can tone them down with art, accessories, or even wallpaper.
2. Replace or Resurface the Flooring
Floors get the worst of it after ten years of tracking dirt into a kitchen. Rent a steam cleaner and buffer. If this is a job you don't want to tackle yourself, hire a professional. They have all the tools and know-how to make tired floors look brand new.
3. Add New Appliances
New appliances like the smart appliances by LG bring a dated kitchen into the modern world. Toss out that old stove and refrigerator and replace them with any of the technology-rich and super convenient products by LG, Whirlpool, and Samsung. It's wonderful to cook meals with tools made for the job.
4. Replace the Countertops
As with the floor, ten years of spilled orange juice, scratches from knives, and general wear and tear ruin conventional countertops. Go with natural stones like granite, and add a little natural beauty to your kitchen. You don't have to replace the entire counter base, just the tops.
5. Modernize the Fixtures
While you think about replacing the counters, think about replacing the sink, garbage disposer, and faucets. You might also be able to add a second sink for prepping food. New fixtures add a little refinement to an old kitchen.
6. Resurface or Replace the Cabinet Doors
You can resurface, stain, or paint cabinet doors to give them new life. You might be able to order new doors that fit the existing base. If not, paint makes a good new beginning.
7. Add Additional Cabinets or Storage
What kitchen does not need more storage space? Add a set of extra cabinets or a customized pantry for all of those counter-top appliances that we need. Adding space is a good option, especially if you paint the cabinets and get new counter tops.
8. Add a Nook
If you have room, add a small breakfast nook. It will make a great place for quiet breakfasts and late night dinners. Such an addition can allow you to turn your traditional dining area into something a little more formal.
9. Add an Outdoor Component
While you're cleaning up the old kitchen, consider adding an outdoor grilling area for summer dinner preparation. An outdoor grilling station gets you out of the hot house and outside where it's easier to relax.
Any or all of these little projects can turn an old kitchen into something you love again. They can be DIY projects, or you can hire a professional to do all or part of them. Either way, you win a like-new kitchen.